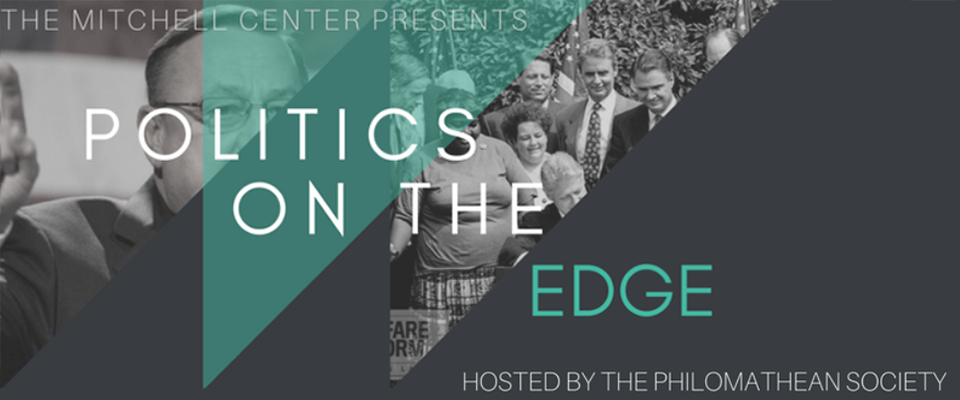 IN THE "THE MITCHELL CENTER PRESENTS: POLITICS ON THE EDGE" SERIES, the Mitchell Center joins forces with the Philomathean Society, an intellectual society at Penn in operation since 1813, to invite outside speakers to discuss contemporary political issues in a convivial yet serious atmosphere. We will invite leading figures from diverse fields—journalism, political advocacy, academia, and art—to share perspectives that are fresh and novel, whether because of the topics they address, the provocative nature of their arguments, or their simple excellence. As with all Mitchell Center programs, these events are open to the public.


Conspiracism: Absurdity and Danger in American Democracy (Nancy L. Rosenblum)
Tuesday, February 4, 2020 - 6:00pm to 7:30pm
College Hall
, 4th Floor (Philomathean Society)
Food provided / Free and open to the public
CONSPIRACY THEORIES ARE AS OLD AS POLITICS. But conspiracists today have introduced something new—conspiracy without theory. And the new conspiracism has moved from the fringes to the heart of government with the election of Donald Trump. Classic conspiracy theory insists that things are not what they seem and gathers evidence—especially facts ominously withheld by official sources—to tease out secret machinations. The new conspiracism is different. There is no demand for evidence, no dots revealed to form a pattern, no close examination of shadowy plotters. Dispensing with the burden of explanation, the new conspiracism imposes its own reality through repetition (exemplified by the Trump catchphrase "a lot of people are saying") and bare assertion ("rigged!"). The new conspiracism targets democratic foundations—political parties and knowledge-producing institutions. It makes it more difficult to argue, persuade, negotiate, compromise, and even to disagree. Ultimately, it delegitimates democracy.
NANCY ROSENBLUM is the Harvard University Senator Joseph Clark Professor of Ethics in Politics and Government emerita. Her field of research is historical and contemporary political thought. She is Co-Editor of the Annual Review of Political Science and co-author, with Russell Muirhead, of A Lot of People Are Saying: The New Conspiracism and the Assault on Democracy.


Event Archives
REDACTED. BLACKED OUT. COVERED UP. The lead attorney of the fraud case against the Democratic National Committee (DNC), Jared Beck, comes to Penn's campus to tell the community stories of an ongoing struggle to garner public legitimacy and cause in what feels to be a stacked case.
Jared Beck is co-managing partner of Beck & Lee. Beck is an honors graduate of Harvard Law School, where he was an editor of the Harvard Law Review, and a Phi Beta Kappa and summa cum laude graduate of Harvard College. He is widely sought by media outlets as a commentator on legal issues and has appeared in many publications including The Wall Street Journal, The New York Times, The Times (London), Bloomberg, MSN Money, Chicago Tribune, Miami Herald, and South Florida Sun-Sentinel.


IN AN AMERICA TORN APART BY the Vietnam War and the demise of '60s idealism, airplane hijackings were astonishingly routine. BRENDAN KOERNER describes how, over a five-year period starting in 1968, the desperate and disillusioned seized commercial jets nearly once a week, using guns, bombs, and jars of acid. Some hijackers wished to escape to foreign lands; others aimed to swap hostages for sacks of cash. Their criminal exploits mesmerized the country, never more so than when shattered Army veteran Roger Holder and mischievous party girl Cathy Kerkow managed to comandeer Western Airlines Flight 701 and flee across an ocean with a half-million dollars in ransom--a heist that remains the longest-distance hijacking in American history.
BRENDAN KOERNER is a contributing editor at WIRED and the author of The Skies Belong to Us and Now the Hell Will Start, the latter of which he is currently adapting for filmmaker Spike Lee. A former columnist for both The New York Timesand Slate who was named one of Columbia Journalism Review's "Ten Young Writers on the Rise," he has also written for Harper's, The New York Times Magazine, Mother Jones, ESPN the Magazine, and many other publications.


THE MITCHELL CENTER AND THE PHILOMATHEAN SOCIETY KICK OFF the 2018-19 Politics on the Edge Series with an event that recognizes that all American politics is currently perched on the edge, no more so than in the debate over how the current administration could (and perhaps should) come to an end before the next presidential election. Long before Election Day 2016, in fact, the American public had already begun debating articles of impeachment against the hypothetical presidencies of Donald J. Trump and Hillary Clinton. On Trump's very first day in office, over 30% of the public already supported removing him from office. Since then, Trump's presidency has been shadowed by credible threats of impeachment. What are we to make of this?  What does it say about Trump -- and what does it say about the state of our democratic system?
JOSHUA MATZ is the Publisher of Take Care, an online platform for incisive legal analysis on a wide range of issues that takes its inspiration from Article II, Section 3 of the U.S. Constitution, which commands that the President "shall take Care that the Laws be faithfully executed." Matz is also of counsel at Gupta Wessler PLLC and Kaplan & Company LLP. His practice specialties include appellate litigation, civil rights, consumer protection, and constitutional law. Matz is the co-author, with Laurence Tribe, of the award-winning Uncertain Justice: The Roberts Court and the Constitution.  In May 2018, Matz and Tribe published their second book together, To End a Presidency: The Power of Impeachment. The Economist proclaimed this book "the definitive treatment of a vital subject." In addition, Matz has written about a wide range of legal issues, focusing on LGBT rights, religious freedom, emoluments, military service by transgender individuals, the risks of impeachment talk, and the role of the Supreme Court. His articles have appeared in The Wall Street Journal, The Washington Post, The Guardian, The Atlantic, USA Today, ACS Blog, and Wired.



JOURNALISTS HAVE BEEN FORCED TO RE-EVALUATE and re-adjust how they do their jobs in the age of governing by tweet and "alternative facts." But the facts, at the heart of their work, have never been more important. How do you wade through the flood of information to get to the truth? How do you foster and facilitate healthy debate, without giving a platform to dangerous speech? And how do you do that work without losing sight of your humanity?
AMNA NAWAZ spent years as an investigative journalist, going on to cover war zones and humanitarian disasters overseas, before returning full time to the U.S. to cover race, inequality, and politics leading up to and through the 2016 presidential election. She now sub-anchors the PBS NewsHour and reports on the real-world implications of the policies coming from the Trump administration, including immigration, climate change, culture, and more.


As part of the POLITICS ON THE EDGE series, The Andrea Mitchell Center for the Study of Democracy and The Philomathean Society present HONG KONG ON THE BRINK: A STRUGGLE FOR SURVIVAL, featuring Nathan Law.
NATHAN LAW is a young activist in Hong Kong, currently studying at Yale University for a master degree in East Asian Studies. During the Umbrella Movement in 2014, Nathan was one of the five representatives who took part in the dialogue with government, debating political reform.
Upholding non-violent civic actions, Nathan, Joshua Wong and other student leaders founded Demosistō in 2016, and also co-founded Network of Young Democratic Asians (NOYDA), aiming at promoting exchanges among social activists in Japan, Taiwan, Myanmar, Thailand and other East Asian countries.
In the recent Legislative Council election, Nathan was elected with 50,818 votes in the Hong Kong Island constituency and became youngest Legislative Councilor in history. Yet his seat was overturned in July 2017 following Beijing's constitutional reinterpretation, despite international criticism.
Nathan was later jailed for his participation in the Umbrella Movement. The persecution sparked global concern over Beijing's crackdown on human rights and democratic movement in Hong Kong. In 2018, Nathan and his fellow student activists Joshua Wong and Alex Chow are nominated for the Nobel Peace Prize by US congressmen and British parliament members.