2023-24 Mitchel Center/SNF Paideia Postdoctoral Fellow

KATERINA TRAUT earned her Ph.D. in Political Science from Vanderbilt University in 2023. Her works focuses on architecture, space, race, and feminist methodology.
Her dissertation, "Poisonous Insecurity: A Political Theory of the Roots of Racism in the Architecture of Colonialism," develops a historical ethnographic methodology for studying the dynamic of space and political thought. It develops this methodology from a specific case, 18th century European forts used during the Trans-Atlantic Slave Trade, and with Toni Morrison's rememory and Saidiya Hartman's critical fabulation. The dissertation uses grounded theory of the British slave-trading company archive, European fortification history, and site visits at historical architectures in Ghana. Katerina argues that fortification as an architecture inspired companymen's bodily sensations of insecurity and that these bodily sensations motivated specific racialized and spatialized governance tactics. This dissertation begins to explore enslaved peoples' architectures of resistance.
Katerina's community-engaged research with Nashville-based Brooklyn Heights Community Garden considers the ways in which community gardens are political architectures for racial justice. She is using ethnography, interviews, and local archives to collect stories of the land and experiences with the garden and has created an ArcGIS Storymap to share the findings publicly on the garden's website. Katerina also develops programming for the garden at the intersection of community wellness and multidisciplinary arts. She has also been completing training in Transformative Justice process facilitation with TN activists and is passionate about supporting survivors and harmers towards accountability and healing.


2022-23 Mitchell Center Postdoctoral Fellow

XAVIER FLORY received a double PhD in political theory from Columbia University and the Institut d'Études Politiques de Paris (Sciences Po). His work reimagines democracy from the foundations to encompass our relationship to the physical environment.
His dissertation, Democracy for the 21st Century: Controlling Technology, Overcoming Oligarchy, constructs a federal theory of democracy built upon the commons as the site of ongoing, direct participation of all citizens. Starting from the premise that there is no democracy without democratic control of technology, which remains the central means by which we transform the physical world, the dissertation goes on to develop a critique of private property over the earth as incompatible with democratic technology or sustainable stewardship of the earth.
Prior to his PhDs, he was a Michel David-Weill Scholar at Sciences Po, where he received his M.A. with distinction, a Thouron Prize Winner at the University of Cambridge, and a Benjamin Franklin Scholar at the University of Pennsylvania, where he received his B.A. in History summa cum laude. Xavier also worked at The New York Times and continues to write politically. He speaks fluent French, German, and Italian.


2021-23 Mitchel Center/SNF Paideia Postdoctoral Fellow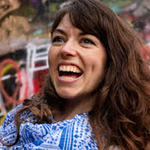 SARAH ROPP received her PhD in Comparative Literature from the University of Texas at Austin. Broadly speaking, her academic research explores the various ways in which children function as symbols, objects, and subjects within contemporary democracies in the United States, Latin America, and Western Europe. A former U.S. public school teacher, Sarah is also invested in dialogic and liberatory pedagogies that reimagine the classroom as a joyful space of community that fosters citizenship in the most inclusive and participatory sense.  
Sarah's work interrogates how images of particular groups of children, and particular kinds of childhood victimization and survival, are weaponized within political rhetoric, media, advertising, and cultural production to craft coercive narratives of national innocence, triumph, and resilience in the aftermath of wide-scale collective traumas experienced as threats to democracy. She is at work on a book manuscript entitled The Prosthetic Child: Survivorism in Post-Trauma Literature from the U.S., Argentina, and the Netherlands. 
Sarah has published scholarly articles in MELUS, Western American Literature, Journal of the American Studies Association of Texas, Southwest Council on Latin American Studies Journal, and Dutch Crossing: A Journal of Lowlands Studies. Her public-facing writing on dialogic pedagogy can be found at Thinking In Community, the official blog of the UT-Austin Humanities Institute, and she also provides open-access original resources related to classroom dialogue at her website, sarahropp.com. Most recently, she has created an open-access college admissions essay writing guide for high school students available at storiesofselfworkshop.com.


2021-22 Mitchell Center Postdoctoral Fellow

NAREMAN AMIN received her PhD in Religion from Princeton University. Her research focuses on religious authority, affect, political participation and Muslim youth culture.
Her dissertation, "Revolutionary Religion: Youth and Islam in Post-2011 Egypt," is an ethnographic work that examines how political participation in a revolution can change the landscape of religious discourse and practice. In particular, she explores how Muslim youth partaking in the 2011 Egyptian uprising affectively responded to the promise and ultimate demise of a revolution. Based on an in-depth analysis of 60 interviews with young middle-class Muslim Egyptians and of traditional and social media, the project shows that, for many youth, revolutionary affects and emotions, notably hope, disappointment, disillusionment, shock and anger, shifted their understanding of what makes a person pious and what constitutes moral and religious perfection.
Her work is published in Die Welt des Islams and Islamic Law and Society (forthcoming). She has an MA in Political Science from the University of South Florida and a BA in History from the American University in Cairo.


2020-21 Mitchell Center Postdoctoral Fellow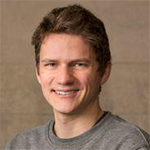 MATT SHAFER received his PhD in political theory from Yale University. His research examines the politics of language and the language of politics in contemporary democratic life.
His dissertation, "What Violence Was: On the Limits of a Political Concept," provided a critical history of recent debates over how the word "violence" itself should be defined in political theory and deployed in political rhetoric. His research at the Mitchell Center extends this work, examining not only how new accounts of the violence of language have become increasingly significant to political life today but also  how such accounts move uneasily between competing conceptual frameworks (such as "speech and harm" versus "discourse and power"). Of particular interest in this work is the question of how the social developments of the so-called information age—from the "commodification of information" to the new dynamics of social media platforms—have transformed what counts as violent language in the first place.
Recent work has been published in Constellations, the European Journal of Political Theory, and elsewhere. Prior to his doctoral work, he completed an MPhil in Political Thought and Intellectual History at the University of Cambridge and a BA in Philosophy at Yale.


2020-21 Mitchell Center JMC Postdoctoral Fellow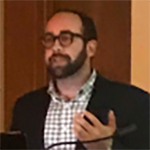 GIDEON COHN-POSTAR received his Ph.D. in History from Northwestern University. His research focuses on voting, citizenship, race, and labor in the late-nineteenth century United States. His dissertation, "Mind How You Vote, Boys: The Crisis of Economic Voter Intimidation in the Late-Nineteenth Century United States, 1873-1896," argues that economic coercion posed both a real and rhetorical threat to democracy during the Gilded Age. In an era of economic upheaval and democratic expansion, widespread instances of employers forcing their employees to vote for their chosen candidates threatened the independence, manhood, and whiteness of white workingmen. The fear that white wage-workers could become as politically unequal as African Americans were in the South drove reformers and politicians to enact secret ballot laws in northern states while ignoring the ongoing coercion in the South. The economic voter intimidation crisis reflected and intensified broader struggles in the Gilded Age over the relationship between capitalism and democracy and the fraught question of which American citizens were "deserving" of political equality.
Gideon's next project explores anti-democratic gubernatorial election laws that have allowed state legislatures to override elections and structurally disenfranchise minority communities. His work has been published in the Journal of the Gilded Age and Progressive Era, New York History, The Conversation, and The Washington Post.


2020-21 ACLS Frederick Burkhardt Visiting Fellow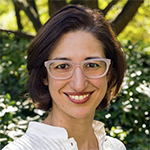 PAULINA OCHOA ESPEJO is a Visiting Scholar at the Andrea Mitchell Center in 2020-21, funded by an ACLS Frederick Burkhardt Fellowship for Recently Tenured Scholars. She is the author of the recently published On Borders: Territories, Legitimacy and the Rights of Place (Oxford University Press). She works at the intersection of democratic theory and the history of political thought, and she is interested in questions about popular sovereignty and borders. She has written about populism, the boundaries of the demos, immigration and the right to exclude, the relation between democracy and territorial rights, the moral relevance of borders and border control. She is also interested in Latin American Political Thought.
She is an is an Associate Professor of Political Science at Haverford College and was previously an Assistant Professor at Yale University and a Laurance S. Rockefeller Visiting Fellow at the University Center for Human Values, Princeton University. She has been visiting professor at CIDE in Mexico City, and a Carey Postdoctoral Fellow at the Erasmus Institute in the University of Notre Dame. She was a member of the School of Social Science at the Institute for Advanced Study, Princeton, and a recipient of the ACLS Frederick Burkhardt Fellowship for Recently Tenured Scholars.


2019-20 Mitchell Center Postdoctoral Fellow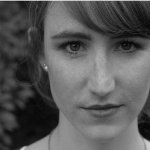 KATHARINA HECHT received her PhD from the London School of Economics and Political Science (LSE). Her doctoral research in Sociology focused on perceptions of top incomes and wealth. Katharina's research interests relate to income and wealth inequality, particularly at the top of the distributions, perceptions of economic inequality and conceptualizations of richness.
Katharina is a Postdoctoral Fellow at the Andrea Mitchell Center for the Study of Democracy and a Visiting Fellow at the International Inequalities Institute (III) at the LSE. Previously, she worked as a Research Officer at the III and as a Researcher at the Centre for Analysis of Social Exclusion (CASE) at LSE.


2018-20 Mitchell Center JMC Postdoctoral Fellow

EVAN TAPARATA received his Ph.D. in History from the University of Minnesota. His research and teaching interests revolve around law and immigration and refugee migration to the United States in the past and in the present. His dissertation, "No Asylum for Mankind: The Creation of Refugee Law and Policy in the United States, 1776-1951," ends when most histories of refugee law begin. Scholars have typically identified the origins of American refugee law in the years after World War II, when the United Nations identified access to refuge as a universal human right and influenced governments around the world to create policies for the resettlement of refugees across their borders. In contrast, Taparata's study unveils a wider world of refugee regulation in the United States that dates back to America's founding era. Thomas Paine famously wrote in his 1776 political pamphlet Common Sense that America ought to be an "asylum for mankind." Taparata argues that America's earliest examples of refugee regulation were not motivated by a sense of humanitarian obligation, but were entangled with the dispossession of Native people, the marginalization of African Americans before and after emancipation, and the exclusion of so-called "undesirable" immigrants.
Evan's dissertation proposal won the inaugural OAH John Higham Research Fellowship in 2016, and he was a Jefferson Scholars Foundation National Fellow in 2018.  He has also written for Public Radio International and IEHS Online, the website of the Immigration and Ethnic History Society Online. 
The Mitchell Center JMC Postdoctoral Fellowship is supported by the The Mitchell Center in partnership with the Jack Miller Center to support scholars who pursue an academic career primarily aimed at advancing learning on the governmental and economic institutions of the United States, especially their historical roots in the principles and politics of the Constitution's founding era, and the ideas, debates, and contests that have shaped their subsequent development.


2018-19 Mitchell Center Postdoctoral Fellow

RAFAEL KHACHATURIAN received his Ph.D. from the Department of Political Science at Indiana University in September 2017. His dissertation, "Discipline, Knowledge, and Critique: Marxist Theory and the Revival of the State in American Political Science, 1968-1989," traced the reception of postwar Marxist debates about the capitalist state into U.S. political science, reconstructing the influence that this literature had on the "return" of the state as an object of social scientific analysis during the 1970s-1980s. In the process, it demonstrates how the disciplinary identity of political science remains intertwined with conceptualizations of the state, and underscores the importance of this relationship to contemporary understandings of democracy and political power.
Rafael's dissertation received the 2018 Stephen Eric Bronner Dissertation Award from the New Political Science section of the American Political Science Association. His work has appeared in peer-reviewed journals such as Polity and Contemporary Political Theory. In addition to his research, he served for six years as an editorial assistant with Perspectives on Politics, flagship journal of the American Political Science Association.


2017-18 Mitchell Center Postdoctoral Fellow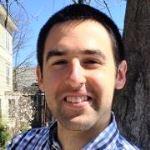 WILLIAM SCHULTZ is an historian of the modern United States, with a focus on the relationship between religion and politics. His dissertation, "Garden of the Gods: Colorado Springs and the Origins of the Culture Wars," explores this relationship through a close study of Colorado Springs, Colorado.
Colorado Springs was the capital city of the culture wars of the 1980s and '90s. Home to dozens of evangelical Christian ministries, including the enormously influential Focus on the Family, the city was nicknamed "The Evangelical Vatican" for its significance to the Christian Right. My dissertation explores the economic factors that drew Christian organizations to Colorado Springs and the political factors that made the city so influential. But it also demonstrates the limits to the Christian Right's power, limits evident even in the movement's ostensible capital.
Schultz earned his Ph.D. at Princeton University and his B.A. in History and Political Science from the University of North Carolina at Chapel Hill.


2016-18 Mitchell Center/JMC Postdoctoral Fellow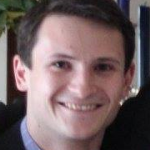 JAMES HRDLICKA received his Ph.D. from the University of Virginia. His research focuses on how Americans looked to constitutional government to address the many challenges they faced between the late colonial period and the ratification of the United States Constitution. Because this period was dominated by war and the need to distribute associated burdens, Americans viewed constitutions as a means by which they could mobilize power to achieve common ends. War and its burdens formed the essential backdrop as Americans debated what made for legitimate and effective government. In no other context did government demand so much of them; at no other times were they presented with so many opportunities to consider the nature of their attachments to the state and to each other. By understanding the process of constitution-making in this more expansive way, we are better able to comprehend the dilemmas and achievements of a larger set of participants. We can begin to see how the entire populace contributed to the creation of a new federal republic. Hrdlicka explores these themes through a close study of Massachusetts as he revises his dissertation into a book manuscript.      
This new postdoctoral fellowship was created by The Mitchell Center in partnership with the Jack Miller Center to support scholars who pursue an academic career primarily aimed at advancing learning on the governmental and economic institutions of the United States, especially their historical roots in the principles and politics of the Constitution's founding era, and the ideas, debates, and contests that have shaped their subsequent development.


2016-17 DCC Postdoctoral Fellow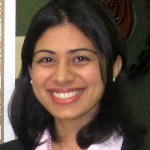 SHENILA KHOJA-MOOLJI received her doctorate in Education and additional certification in Feminist Theory from Columbia University in 2016. Her research interests include examining discourses on gender and education, and their entanglement with practices of power. Dr. Khoja-Moolji's work problematizes the centering of girls' education and empowerment as a solution to societal problems, especially in relation to Muslim-majority nations. Specifically, she interrogates universalistic notions of girlhood, empowerment, and rights embedded in past and present calls for women's and girls' education, and in doing so highlights the raced, gendered, and religioned configurations of citizenship that emerge in and through humanitarian discourses.
Dr. Khoja-Moolji has written extensively about the convergence on the figure of the girl in transnational development regimes. She also investigates education policy discourses as they relate to immigrants in the United States and teacher development in the global South. Her work has appeared in Signs: Journal of Women in Culture and Society (in press), International Journal of Qualitative Studies in Education (in press), Comparative Studies of South Asia, Africa and the Middle East, Compare: A Journal of Comparative and International Education, Discourse: Studies in the Cultural Politics of Education, Feminist Teacher, Gender and Education, Girlhood Studies, and Journal of Diaspora, Indigenous, and Minority Education, as well as in the form of several book chapters. She also pursues an active public scholarship agenda, with opinion pieces and essays appearing in The New York Times, The Washington Post, and The Huffington Post.


2015-16 DCC Postdctoral Fellow
LISA POGGIALI researches the sociotechnical politics of ICT (Information and Communications Technologies) in urban Africa, with a focus on Nairobi, Kenya. At Penn, she is completing a book manuscript, Developing Code: Aspiration and Exclusion in the Making of "Silicon Savannah," which is based on over two years of ethnographic research conducted in both the elite spaces where wealthy Kenyans design software and the informal settlements where the urban poor implement and use it. The manuscript traces how these urban residents collectively, though unevenly, translate ideas about development and governance into software platforms. Poggiali argues that new media becomes an arena which debates about citizenship, inequality, identity, and difference play out. 
Lisa is also developing two new avenues of research. The first involves archival work on the history of cartography in Nairobi; the second is an ethnographic project on Kenya's electricity infrastructure, focusing on the links between policy, provision, distribution, and use among Nairobi's diverse urban residents. These follow from her abiding interest in how science and technology studies can help social scientists rethink classic political questions of development and governance on the continent. Lisa received her PhD from the Department of Anthropology at Stanford University in 2015. Her research has been financially supported by the National Science Foundation, Social Science Research Council, Fulbright-Hays, and the Wenner-Gren Foundation for Anthropological Research; her work is forthcoming in Cultural Anthropology.


2014-15 DCC Postdctoral Fellow

MASON MOSELEY received his Ph.D. in Political Science from Vanderbilt University in 2014, and his undergraduate degree from UNC-Chapel Hill in 2008. His research examines the role of institutional characteristics and processes in shaping individual level political attitudes and behaviors, particularly in the Latin American context. His work has been published in Electoral Studies and Journal of Politics, and has been funded by a dissertation grant from the National Science Foundation.
His dissertation, From Ballots to Blockades: The Normalization of Protest in Latin American Democracies, asks why mass protest has become a normal, almost routine component of the participatory "repertoire" in certain democratic systems, but not others. Drawing on cross-national surveys from Latin America and qualitative and quantitative sub-national data from Argentina, he finds that this often-sharp variation is the result of differences in political institutions and trends in citizen engagement across nascent democracies. Specifically, ineffective institutions coupled with highly engaged democratic citizenries precipitate more radical modes of political participation, as governments' ability to deliver on citizens' expectations for democracy fails to match the capacity for mobilization of politically active democrats.
 
2013-14 DCC Postdctoral Fellow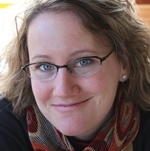 ANTJE SCHWENNICKE received her Ph.D. in Political Science from Indiana University, Bloomington and holds a Masters Degree from the Free University of Berlin.  Her research interests focus on social policy in advanced industrial societies, comparative public opinion, and the interplay between public opinion and political parties in Western Europe.  Antje has also written on political communication and media framing – in particular with regard to the framing and perception of Muslim welfare recipients in Western European societies.
Her dissertation, entitled "Social Policy Position Change in Advanced Industrial Societies: A Comparative Study of Constrained Party Choices," seeks to explain changes in the position-taking of major parties in advanced industrial societies. She finds that major political parties are constrained in their social policy positions by voter group demand and economic context in 1987-2005.
Antje is excited to begin work with the DCC Undergraduate Grant recipients, and will be offering a course on social policy and citizenship in advanced industrial societies in the spring semester.


2012-13 DCC Postdctoral Fellow

JAIME LLUCH received his Ph.D. in Political Science from Yale University and also has a J.D. from Yale Law School. He is a comparativist who works on the politics of accommodation in multinational democracies, comparative federalism and comparative constitutionalism, models of multilevel governance and citizenship, European politics, and also migration and global governance.
He has a forthcoming book entitled Visions of Sovereignty: Varieties of Minority Nationalism in Multinational Democracies (University of Pennsylvania Press, in the Series edited by Prof. Brendan O'Leary), and an edited book with Palgrave Macmillan entitled The Politics of Accommodation in Multinational Democracies, which is forthcoming in 2013. He has articles published in Publius: the Journal of Federalism, European Political Science Review, Nationalism and Ethnic Politics, and Nationalities Papers. He has been a visiting fellow at the European University Institute (Florence), St. Antony's College (Oxford), and Collegio Carlo Alberto (Turin). He has also been Visiting Professor of Law at Universitat Pompeu Fabra (Barcelona). During 2011-12, he had a Visiting Fellowship in Italian Studies in Turin and Bolzano/Bozen, Italy, doing research on "The Italian Federal Political System and Devolutionary Autonomies in Northern Italy."


2011-12 DCC Postdctoral Fellow

ROSALIE GENOVA .received her PhD in History in 2010 from the University of North Carolina-Chapel Hill. Her research interests include the role of corporations in democratic society, narrative and perception in politics, contemporary business and capital markets, and financial crises in historical perspective. Genova's dissertation, "Big Business, Democracy, and the American Way: Narratives of the Enron Scandal in 2000s Political Culture," argued that political uses of narrative shaped the federal reforms intended to prevent "another Enron"—particularly relating to corporate financial statements and private money in election campaigns. The current book project more broadly considers business developments of the late twentieth century giving way to the "New Economy" and, following Enron, the financial crisis of 2008 and its own political ramifications. She has also written on the equities market "Flash Crash" of May 2010 and the Dodd-Frank financial reform law in comparison with New Deal regulatory initiatives. While at Penn she is teaching a course on corporations in US politics from the topic's earliest history to the present.


2010-11 DCC Postdctoral Fellow

NATALIE JOY received her PhD in history from UCLA in September 2008. Her research interests include Native American history and the history of antislavery, two fields of inquiry rarely considered concurrently. She is currently working on a book manuscript, "'The Wronged Red Man': Indian Removal and the Problem of Slavery," which examines the intersection of the antislavery and antiremoval movements in the antebellum United States. Antislavery support for the antiremoval cause was complicated by the fact that some Native Americans were slaveholders, and Natalie's research considers how the alliance of antislavery and antiremoval interests persisted in light of this inconvenient fact. An article she wrote on this topic was recently published in the July 2010 issue of Common-place. Natalie is now a Visiting Assistant Professor of History and Humanities at Reed College.


2009-10 DCC Postdctoral Fellow

ARJUN CHOWDHURY received his PhD in political science from the University of Minnesota in August 2009. His research interests lie in international security, political development, and contemporary political theory. His dissertation, Expectations of Order: State Failure in Historical Context, analyzes the phenomenon of weak and failed states – states that are unable to control their own borders and provide goods to their population – and asks why there are so many such states. He argues that changes at the level of the international system, specifically the reaction to European colonialism and the development of nuclear weapons, make state weakness more likely. At the same time, these changes paradoxically make states more important for international order, to control nuclear proliferation, for example. Arjun has authored and co-authored scholarly articles published or forthcoming in the journals Security Dialogue, Security Studies, and borderlands e-journal. At Penn, Arjun worked on two projects. The first examines how potentially violent democratic contestation in non-Western states can help to consolidate state power, despite creating short- and medium-term instability. The second examines how foreign intervention aiming at modernizing social practices and institutions often creates opposite effects – namely the strengthening of traditional, and sometimes regressive, institutions and practices. While at Penn, he taught a Freshman seminar titled "Political Violence and the Modern World." Arjun now teaches in the Political Science department at the University of British Columbia.


2008-09 DCC Postdctoral Fellow
GEORGIA KERNELL successfully defended her PhD dissertation in political science at Columbia University in September 2008. Her research interests include political parties, methodology, behavior and comparative institutions. Her dissertation, "Political Party Organizations and Representation: Intraparty Institutions and Competition in Established Democracies," examines how a party's organization-- especially its decentralization with respect to candidate selection, resource allocation, and recruitment of delegates to the national party convention-- shapes its electoral appeal and constituent support. The thesis uses an original data set of party institutions, party statutes, and interviews for 66 partiesi n 20 mature parliamentary democracies. At Penn Georgia worked on several projects that examine the institutions that regulate party diversity; the normative implications of party organizations for representation; and the information strategies that affect consumers' economic forecasts. While at Penn she also taught a freshman seminar on "Comparative Political Parties and Party Systems." Georgia is now an Assistant Professor of Political Science at Northwestern University.


2007-08 DCC Postdctoral Fellow

KAROLINA SZMAGALSKA-FOLLIS received her doctorate in anthropology from New School University. Dr. Szmagalska-Follis is currently completing a book manuscript, Rebordering Europe, based on her dissertation, and she now teaches in the Anthropology Department at the National University of Ireland, Maynooth, in Dublin.