Faculty Workshops
Graduate Workshops
Faculty Workshops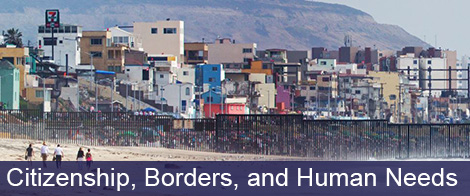 Both as sending and as receiving nations, many constitutional democracies today are experiencing serious, often polarizing controversies over heightened numbers of immigrants and emigrants as well as refugees and asylum seekers. There is intense debate over whether human economic, political, cultural and security needs are really best served by strictly enforcing civic borders, and over whose needs are served, whose are harmed. Some read history as indicating that constitutional democracies benefit from free movement of persons, some see very different lessons. Both empirically and normatively, some argue today that traditional nation-state boundaries for civic membership are becoming obsolete; some find these views utopian or unpatriotic. Scholars from many disciplines and countries will explore these issues in the DCC Workshops and Spring Conference for 2007-2008. The volume for the 2007-08 year is now available here.

Graduate Workshops

"Authoring (In)Authenticity, Regulating Religious Tolerance: the Legal and Political Implications of Anti-Conversion Legislation for Indian Secularism"
Jennifer Coleman (Political Science, UPenn)
Discussant: Sourabh Singh (Sociology, Rutgers)
View Abstract. Read PDF.


"Establishing a Democratic Religion: Metaphysics and Democracy in the Debates Over the President's Commission on Higher Education"
Ethan Schrum, (History, UPenn)
View Abstract. Read PDF.


"Diversity and the Public Sphere"
Ryan Muldoon (Philosophy, UPenn)
Discussant: Katherina Glac (Legal Studies and Business Ethics, Wharton)
View Abstract. Read PDF.


"The University at the New Frontier: The Expansion of Higher Education and the Origins of the Student Movements of 1968 in France, Germany and Italy"
Ben Mercer (History, University of Pennsylvania
Discussant: Stefan Heumann (Political Science, Penn)
View Abstract. Read PDF.


Indigenous Populations, Citizenship and Constitutionalism in Latin America:
Christopher J. Fromherz (Law, UPenn):
"Indigenous Peoples' Courts:  Egalitarian Juridical Pluralism, Self-Determination, and the UN Declaration on the Rights of Indigenous Peoples."
View Abstract. Read PDF.
Meredith Staples (Political Science, Rutgers):
"Mexico, Indigenous Peoples and Citizenship"
View Abstract. Read PDF.


"American Legal Pragmatism and Jim Crow"
Hannah Wells (English, UPenn)
View Abstract. Read PDF.


"Luck, Responsibility, and Equality in Global Justice"
Mark Navin (Philosophy, UPenn)
View Abstract.


"Synthetic Slaves and the Living Dead: Rethinking Civil Death, the Thirteenth Amendment and Felon Disenfranchisement"
Luca Follis (New School for Social Research)
View Abstract.


The Judiciary, the Law and Democracy
Phillip Buckley (Graduate School of Education, UPenn):
"Critical Citizens or Loyal Citizens: Exploring the Role of Ideology in Student Speech Rights Cases."
View Abstract. Read PDF.
Claire (Seon Hye) Lim (Economics, UPenn):
"Turnover and Accountability of Appointed and Elected Judges."
View Abstract. Read PDF.