Faculty Workshops
Annual Conference
Graduate Workshops
Faculty Workshops
Today traditional claims of national sovereignty are being challenged via the growth of dual national citizenships; the creation of supra-national forms of economic and political community; and the devolution of political and economic authority in many federal or federated systems.  More and more people around the globe possess plural citizenships, with no clear single sovereign governing them.  What is driving these developments?  In what respects are they normatively defensible or undesirable? These are the topics to be explored in the DCC program during 2009-2010. The volume for the 2009-10 year is now available here.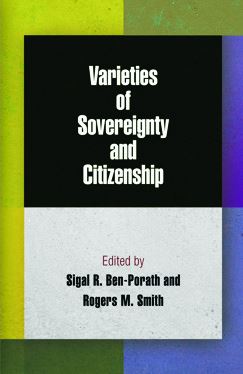 Who's Afraid of International Law? Sovereignty, the Constitution, and the International Order
Noah Feldman (Harvard University)


Economic Justice, Coercion, and Foreign Policy
Michael Blake (University of Washington Jamin)


Subcontracting Sovereignties
Anna Tsing (University of California, Santa Cruz)


War, Territorial States and Contention: Lasswell v. Tilly
Sidney Tarrow (Cornell University)


Sovereignty out of Joint
Arjun Chowdhury (University of Pennsylvania)


Spatial Organization and Political Occupation
Eyal Weizman (Goldsmiths, University of London)


Desiring Walls
Wendy Brown (UC Berkeley)


Third Annual Penn DCC Conference
April 30, 2010
Normal 0 false false false EN-US X-NONE X-NONE

PANEL 1: "Cosmopolitan Government? "
Chair: Kok-chor Tan (Penn Philosophy)
David Miller (Politics, Oxford University)
Robert E. Goodin (Philosophy, Australia National University)
Discussant: Peter Schuck (Law, Yale University)

PANEL 2: "Alternative Cosmopolitanisms "
Chair: Sarah Paoletti (Penn Law)
Ayelet Shachar (Law, University of Toronto)
Pheng Cheah (Rhetoric, UC Berkeley)
Discussant: Julie Mostov (History and Political Science, Drexel University)

PANEL 3: "Imperial Cosmopolitanisms "
Chair: Robert Vitalis (Penn Political Science)
Nasser Hussain (Law, Jurisprudence, and Social Thought, Amherst College)
Elizabeth Povinelli (Anthropology, Columbia University)
Discussant: Greg Urban (Penn Anthropology)

PANEL 4: "Resisting Cosmopolitanisms"
Chair: Rogers Smith (Penn Political Science)
Jeremy Rabkin (Law, George Mason University)
Anna Stilz (Political Science, Princeton University)
Discussant: Hans Oberdiek (Philosophy, Swarthmore College)


Graduate Workshops

Racial Codes of the City
Charles Davis (Art History, UNC Chapel Hill):
"The Postwar Postscripts of Collage City: Exploring the rhetorical integrations of race and geometry in 'Contextualism,' 1963-1978"
View Abstract. Read PDF.
Khadijah White (Penn Communications):
"BANGCLASH: Belongingness and the Harlem Drummers"
View Abstract. Read PDF.


Belonging everywhere and nowhere: Contested Citizenships in South Asia and North America
Eranda Jayawickreme (Psychology):
"The war's over, but the troubles remain: Psychological constraints on prospects for reconciliation in a post-LTTE Sri Lanka"
View Abstract. Read PDF.
Sarah Dowling (English):
"'And if O Cidadán is a girl / O girls my countries / It is citizenship's acts I dream of': The Citizen of Erin Mouré's O Cidadán"
View Abstract. Read PDF.


Debating International Development: Discourse and Ethics
Rosalyn Daitch (Intercultural Communication):
"Framing International Development Discourse: Embedded and Imbibed Difference"
View Abstract. Read PDF.
Andrew Hao (Anthropology):
"Ethical Exceptions in China and Singapore: Emerging Shifts in Territoriality and Citizenship through Business Ethics"
View Abstract. Read PDF.


Genealogies of Citizenship: Early Modern Constructions of Political Belonging
Cristina Pangilinan (English, UPenn):
"Re-inventing London Citizenship in Thomas Usk's The Testament of Love"
View Abstract. Read PDF.
Murad Idris (Political Science, UPenn):
"Erasmus on Christian Peace: Counting, Miscounting, and Discounting the Turk"
View Abstract.


Contentious Constitutions
Vanessa Mongey (History, UPenn):
"'Chimera of the wildest nature': failed revolutions and stillborn constitutions in early America"
View Abstract.
N. Turkuler Isiksel (Political Science, Yale University):
"The constitution as 'mere machinery': A theory of Europe's supranational constitutionalism"
View Abstract.


Civic Forms and Civic Acts
Julia Bloch (English, UPenn):
"Voices of the Immense: Lorine Niedecker's Polyphonic Poetics of Belonging"
View Abstract.
Adam Goodman (History, UPenn): "Defining and inculcating 'the soul of America': The Bureau of Naturalization and the Americanization movement, 1914-1919"
View Abstract. Read PDF.


Education and Citizenship in Liberal-Democratic States
Dana Dawson (Social and Political Thought, York University, and Adjunct Faculty, Temple):
"Democratization and Aboriginal Education in 19th-century Upper Canada"
View Abstract. Read PDF.
Jeehyun Lim (English, UPenn): "Re-imagining Citizenship Through Bilingualism: The Migrant Bilingual Child in Helen María Viramontes's Under the Feet"
View Abstract. Read PDF.


E pluribus unum? The Many Voices of the Media
Daniel Ryan Morse (English, Temple):
"Only Connecting?: E. M. Forster and Empire Broadcasting"
View Abstract. Read PDF.
Piotr Szpunar (Communication, UPenn):
"Let Me Interupt!" or, Ethics after Ethical Violence: Rethinking Levinas, Ethics and News Media"
View Abstract. Read PDF.