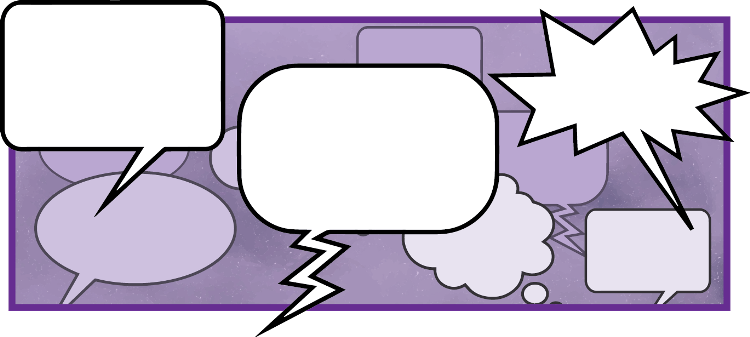 The Andrea Mitchell Center is pleased to announce a new initiative, CONVERSATIONS, in partnership with the Government and Politics Association at Penn. Each CONVERSATIONS event brings together a wide array of scholars and activists focused on a specific issue so that they may engage in a dialogue with student groups at Penn also dedicated to that issue.


PAST EVENTS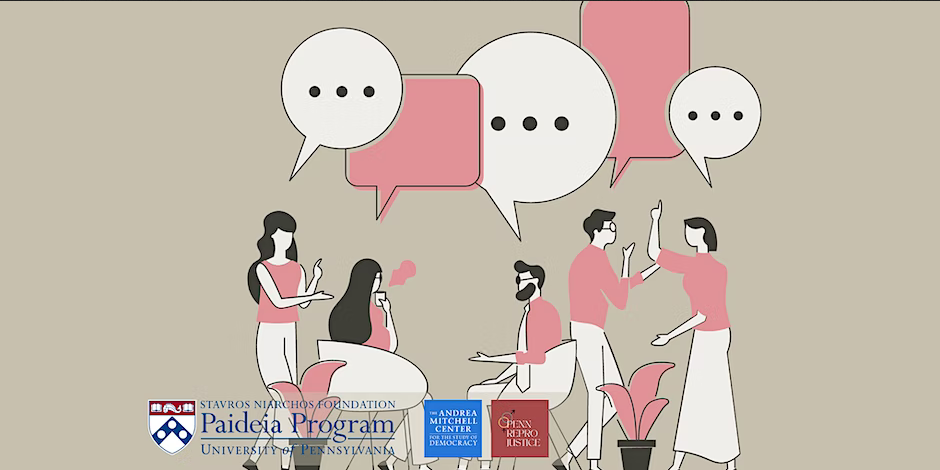 THIS WORKSHOP WILL FOCUS ON best practices for engaging in conversation about abortion with peers and loved ones. All political leanings, lived experiences, and identities are welcome! No one will be required to share their beliefs or experiences  related to abortion at any time. The purpose of the workshop is to encourage self-reflection and practice skills that are applicable for each person's individual needs and goals. This event is sponsored by the Mitchell Center, the SNF Paideia Program, Penn Reproductive Justice, and Penn Social Equity and Community.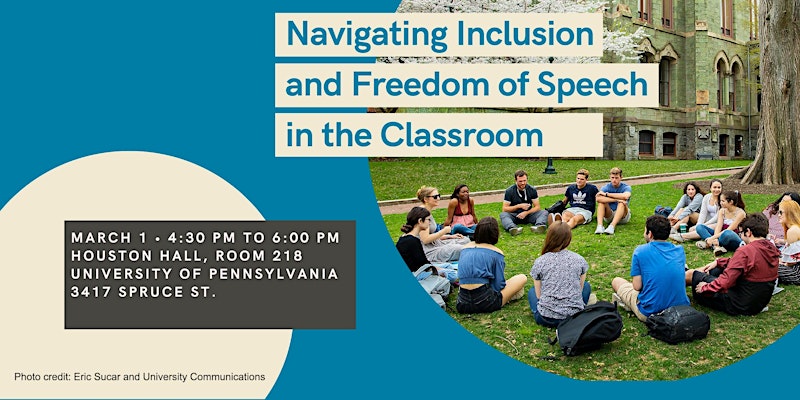 HOW CAN WE BOTH PROMOTE OPEN DISCOURSE AND PROTECT STUDENTS FROM HARM? Join us for a community dialogue event that brings together educators + students from a variety of Philadelphia campuses – from high school to higher ed – to share insights and experiences from each participant's unique context and perspective. Conversants and audience members alike will respond to Dr. SIGAL BEN-PORATH's "inclusive freedom" framework for campus speech, which places equal importance on the right of all voices to be included and the right of all ideas to be expressed.
This non-traditional, participatory event will model a number of structures that support equitable inclusion in dialogue, so that all participants truly feel free to speak. This won't be a debate, a panel discussion, or a series of speaker presentations. Instead, in the first half of this community dialogue, our invited conversants will engage in a facilitated conversation with one another, modeling non-hierarchical, equitable dialogue across difference. In the second half, audience members will respond to this conversation and engage with a set of discussion questions in small-group dialogues. Attendees will come away with new strategies for participating in and facilitating inclusive, open dialogue, as well as new appreciation of the unique complexities of practicing intellectual freedom in different local educational contexts.
Organizer and Facilitator: SARAH ROPP is a multi-lingual teacher and researcher of dialogue across difference with 20 years of experience in cross-cultural communication, including diverse teaching experiences in the U.S. and abroad. She is currently a postdoctoral fellow with the Andrea Mitchell Center for the Study of Democracy and the SNF Paideia Program at the University of Pennsylvania.
Featured Dialogue Participant: SIGAL BEN-PORATH is Professor of Education at the University of Pennsylvania. She is the author of Free Speech on Campus (2017).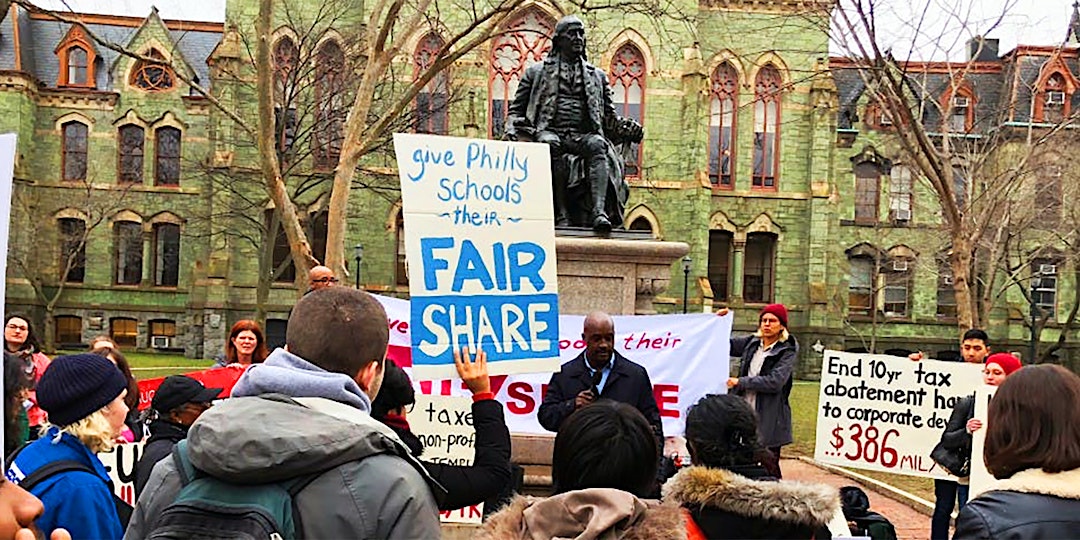 Hosted by the Penn Government and Politics Association and the Andrea Mitchell Center for the Study of Democracy, this virtual panel of experts and activists will discuss the recent activism for Penn to pay PILOTs (Payment in Lieu of Taxes) and, more broadly, the question of Penn's responsibility to public education and community justice in Philadelphia.
The panelists include:
Dennis Culhane, Professor and Dana and Andrew Stone Chair in Social Policy, Penn School of Social Policy & Practice
Rick Krajewski, Candidate for Pennsylvania House of Representatives in the 188th District, Penn Class of 2013
Devan Spear, Executive Director of Philadelphia Jobs with Justice
Sarah Min, Penn Community for Justice
Co-sponsored by Penn Democrats, GEAR UP at Penn, Penn AAPI Politics, Civic House, and the SNF Paideia Program.


Co-sponsor: Stavros Niarchos Foundation Paideia Program at Penn
PLEASE JOIN THE MITCHELL CENTER AND THE GOVERNMENT AND POLITICS ASSOCIATION AT PENN for the first CONVERSATIONS event, "Climate Justice and Environmental Citizenship," which will center on the role of government regulations in promoting environmental citizenship. A panel of esteemed local and federal climate educators, specialists, advocates, activists, and scholars will engage in a robust dialogue with each other and with members of Penn student groups to explore issues surrounding sustainability, the climate, and our built environment.
The panel will grapple with difficult and important questions. Does taking climate change seriously mean taking democracy more seriously? How does the influence of donations and lobbying from oil, coal, and fossil fuel corporations affect the state of our democracy? Will climate change destroy democracy? How will decarbonizing the U.S. economy translate into a massive boost to the international project of preventing runaway climate change? What are the implications to consider for a generational investment in planning and design to reshape the social and physical landscape of the U.S.?
In addition to numerous student groups at Penn, the event will include the following speakers:
MITCH CHANIN 350 Philadelphia
FELÍQUAN CHARLEMAGNE Youth Climate Strike founder
CHAD FORCEY Executive Director of the Pennsylvania Conservative Energy Forum
PETER HANDLER Citizens Climate Lobby & artist
DR. ANDREW HUEMMLER Sr. Lecturer, Penn Chemical and Biomolecular Engineering
SABIRAH MAHMUD Youth Climate Strike PA State Lead Organizer
GABRIELLA MARCHESANI Florida Lead, Youth Climate Strike
DR. ELLEN NEISES Landscape Architect and Executive Director of PennPraxis
DR. ERIC ORTS Wharton Professor and Director of the Penn Initiative for Global Environmental Leadership
MEENAL RAVAL 350 Philadelphia