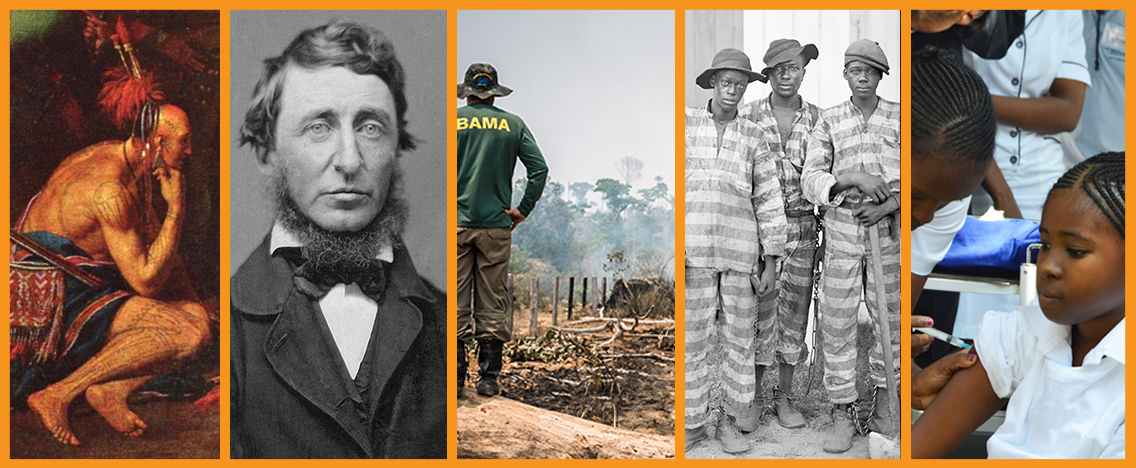 SEE PAST CONFERENCES HERE
AS THE CULMINATION of a year of meetings to refine their research projects, the Mitchell Center undergraduate research fellows present their projects in a one-day conference, with diverse topics that this year include healthcare financing in Botswana, the Black maternal mortality crisis in the U.S,, a philosophical examination of civil disobedience, inequality and democracy in Chile, Brazlian environmental policy, the idea of the noble savage and its impact on the antislavery movement, Asian stereotypes in early science-fiction comic books, the arguable reality of religious freedom, the convict leasing system in early twentieth-century America, and the rise of the conservative movement in the Vietnam era. Co-sponsored by The Jack Miller Center.


READ ABSTRACTS AND FULL PAPERS HERE.


PANEL 1 – 10:00-11:00 am - Health and Politics Today
VIEW THE FULL VIDEO HERE.

Angela Kumirai (Health and Societies)
Healthcare financing in Botswana and Ghana: A Comparative Study
Morgan Taylor (Health and Societies)
An Untold Story: Understanding the Black Maternal Mortality Crisis Through Preeclampsia, 1940-2020
Discussant: Ramah McKay (History and Sociology of Science, Penn)


PANEL 2 – 11:15 am-12:30 pm - Liberalism, Illiberalism, Neoliberalism
VIEW THE FULL VIDEO HERE.
Tat Hang Henry Hung (Philosophy)
The Boundaries of Justifiable Disobedience
Alexandru Zanca (Business Economics and Public Policy)
Inequality and Development Under Democratic Neoliberalism: Case Study of Chile
João Campos (International Relations)
(Don't) Come to Brazil: How International Actors Have Influenced Brazilian Environmental Policy in the 21st Century
Discussant:  Rafael Khachaturian (Political Science, Penn)


PANEL 3 – 1:00-2:15 pm - Otherness and Identity
VIEW THE FULL VIDEO HERE.
Suchait Kahlon (History)
Abolition, Africans, and Abstraction: The Influence of the "Noble Savage" on British and French Antislavery Thought, 1787-1807
Erin O'Malley (Comparative Literature)
The Asian/Alien in American Legal Policy and Science Fiction
Sally Chen (Political Science)
Is it All a Mirage? Examining Religious Freedom in America
Discussant: Joe Fischel (Women's, Gender, and Sexuality Studies, Yale)


PANEL 4 – 2:30-3:30 pm - Resistance and Reaction in American History
VIEW THE FULL VIDEO HERE.

Carson Eckhard (History/English)
Ragged Battalions, Plotting Liberty: Convict Leasing and the Construction of Carceral Capitalism in Florida, 1875-1925
Anna Lisa Lowenstein (History)
The Politics of Pride: Conservative Visions of American Nationalism in the Vietnam War Era
Discussant: Kyle Burke (History / Peace & Conflict Studies, Hartwick College)


READ ABSTRACTS AND FULL PAPERS HERE.