Tuesday, October 27, 2020 -

7:00pm

to

8:30pm
View a video of the event here.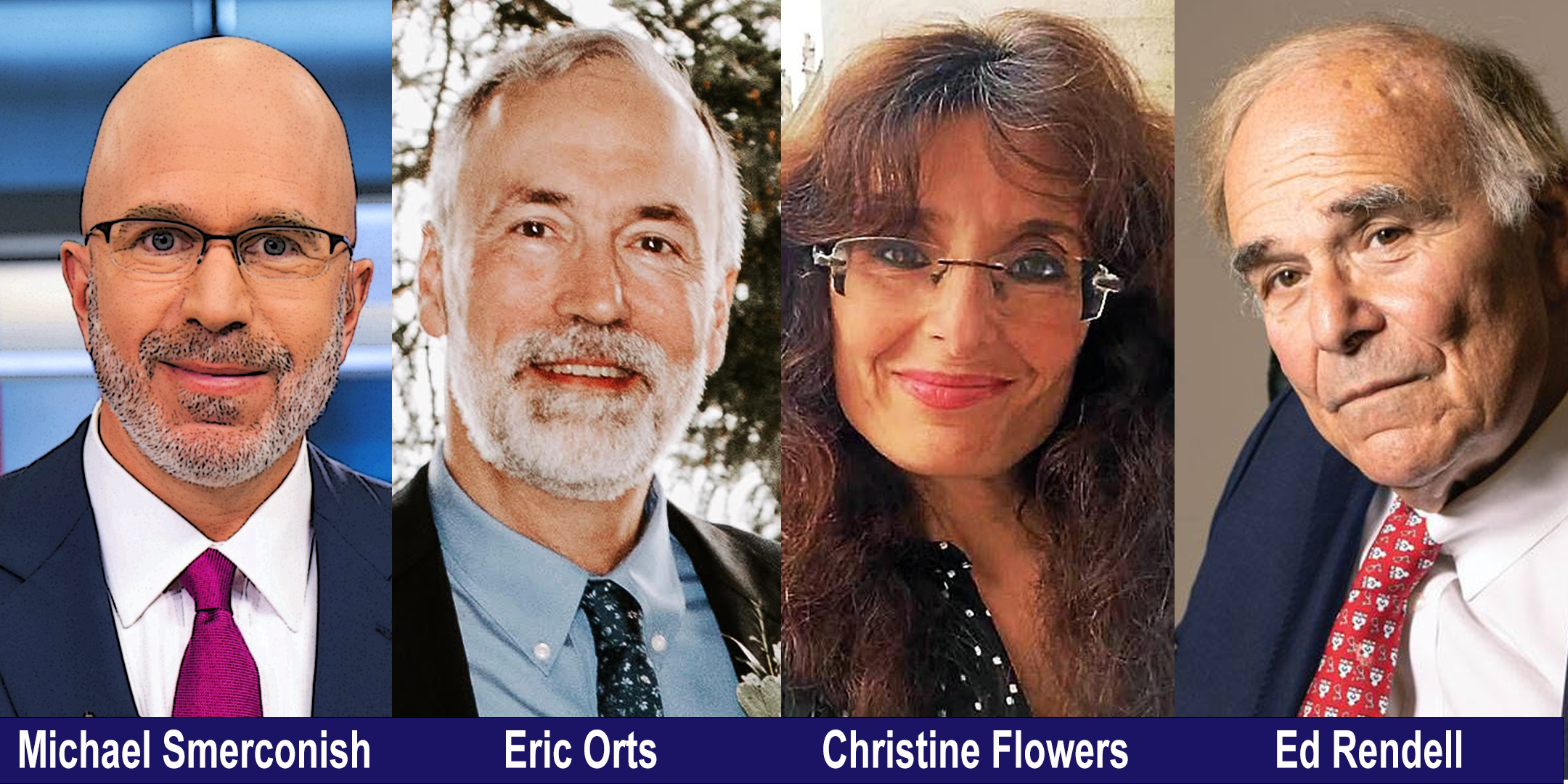 JOIN THE PENN POLITICAL UNION, with support from The Andrea Mitchell Center and the Penn Government and Politics Association, for its final 2020 elections event. With one week to go, we will be speaking with various political leaders, journalists, and party officials to discuss the state of the presidential race, down-ballot races, and the role of Pennsylvania this November and going forward. Audience members will be able to submit questions to the panelists.
Panelists include:
CHRISTINE FLOWERS, conservative commentator and former Philadelphia Inquirer contributor;
ERIC ORTS, the Guardsmark Professor at the Wharton School;
ED RENDELL, the 96th Mayor pf Philadelphia and 45th Govenor of Pennsylvania; and
MICHAEL SMERCONISH, host of The Michael Smerconish Program on SiriusXM, host of CNN's Smerconish and Contributor, and newspaper columnist and best-selling author .
The Penn Political Union is an undergraduate organization that features parliamentary-style deliberation on urgent contemporary issues. To represent a wide spectrum of political opinion, students affiliate with five member political parties: Libertarian, Conservative, Centrist, Liberal, and Progressive. The goal of PPU, in both debates and less formal discussions, is to fully represent political diversity while maintaining civility and openness to other outlooks.
CHRISTINE FLOWERS is a syndicated columnist who wrote for the Philadelphia Inquirer and Daily News for over 17 years.  She has also been a regular panelist on 6 ABC's public affairs round table Inside Story since 2006, and has hosted a radio talk show on 1210am WPHT. In her spare time, she practices immigration law, specializing in asylum and refugee cases. A graduate of Merion Mercy Academy, she obtained her AB from Bryn Mawr and her J.D. from Villanova. Born in Baltimore but a lifelong Philadelphian, she used to be a huge Eagles fan, until they won the Super Bowl and it was all downhill after that.
ERIC ORTS is the Guardsmark Professor at the Wharton School of the University of Pennsylvania. He is a professor of legal studies and business ethics with a joint appointment in management. He serves as an academic co-director of the NASD Institute at Wharton Certificate Program for compliance and regulatory professionals and directs Wharton's Environmental Management Program. His primary research and teaching interests are corporate governance, professional ethics, and environmental management. His scholarly work is widely published in academic journals (mostly law reviews) and books.
EDWARD G. RENDELL is an NBC news analyst, lawyer, prosecutor, politician, and author. He served as the 45th Governor of Pennsylvania from 2003 to 2011, as chair of the national Democratic Party, and as the Mayor of Philadelphia from 1992 to 2000. As Governor, Rendell was committed to making government more responsible and responsive to the public's needs, and he successfully cut wasteful spending and improved efficiency leading to savings of over $1 billion. His legislative agenda focused on commonsense political reform and putting progress ahead of partisanship.
MICHAEL A. SMERCONISH is the host of The Michael Smerconish Program on SiriusXM Channel 124, the host of CNN's Smerconish on Saturday mornings, newspaper columnist and author. Smerconish has often been recognized for his radio work. Talkers Magazine has consistently named him one of America's most important talk show hosts. Smerconish hosts a weekly Saturday TV program on CNN fittingly called Smerconish and in the past has been an MSNBC contributor and frequent guest-host of Hardball for Chris Matthews. He has been a guest on virtually every television program where politics is discussed, including: the NBC Today show, Colbert Report, O'Reilly Factor, Larry King Live, The View, and Real Time With Bill Maher. Smerconish is the author of six books, two of them New York Times' best sellers. He donated all author proceeds from three of those manuscripts to charity. Smerconish also authors a Sunday column in the Philadelphia Inquirer. His columns have been re-printed in various newspapers across the country.