Thursday, September 28, 2017 - 6:00pm
National Constitution Center, 525 Arch Street
Watch a full video of the event here.  
Co-sponsored by the National Constitution Center, The Jack Miller Center, and the Katz Center for Advanced Judaic Studies.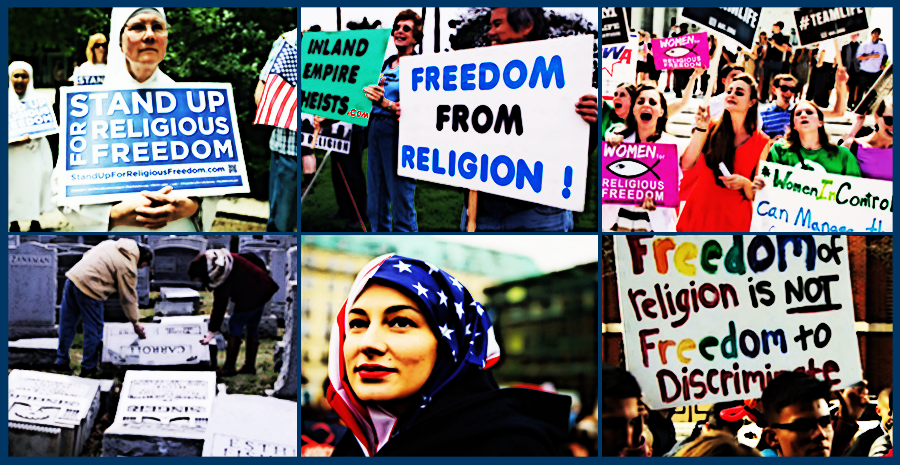 IN AMERICA TODAY, MANY RELIGIOUS BELIEVERS contend that government anti-discrimination policies require them to do things that violate their faiths, while others feel religious claims are being used to violate their rights.  In countries worldwide, concerns about terrorism in the name of religion are fueling strong measures to police, even persecute, many minority communities - Muslims, Christians, secularists, and others among them.  This panel brings together spokespersons for three faiths and for secular worldviews to discuss whether and how freedoms for and from religion are endangered today, and what Americans' responses should be.
KRISTINA ARRIAGA has worked on the defense of religious freedom domestically and internationally for over 20 years as Advisor to the United States delegation to the United Nations Human Rights Commission, an appointee to the Civil Rights Commission, and as the Executive Director of Becket Law, a public interest law firm. She currently serves as the Vice Chairwoman of the U.S. Commission on International Religious Freedom. Arriaga is a sought-after speaker on religious freedom. She has also appeared on TV and radio programs including MSNBC, C-Span, FOX, CNN Español, Council on Foreign Relations and National Public Radio. Her op-eds have been featured in publications such as the Wall Street Journal and Newsweek. Arriaga is the recipient of the 2017 Newseum's Free Speech award. 
DAN BARKER is co-president of the Freedom From Religion Foundation. He was elected co-president of the Foundation with Annie Laurie Gaylor in 2004, with whom he is co-host of Freethought Radio, a national weekly talk show. He is a contributing editor of Freethought Today and is involved with the Foundation's state/church lawsuits. He regularly travels the country and the world giving lectures, performing concerts, and participating in debates with theists, many at college and university campuses. A former minister and evangelist, his books include Just Pretend: A Freethought Book for Children and Losing Faith in Faith: From Preacher To Atheist. Recent books include Life Driven Purpose: How an Atheist Finds Meaning (2015), GOD: The Most Unpleasant Character in All Fiction (2016), and the forthcoming Make Up Your Mind: Do We Really Have Free Will? (2018).
DAVID SAPERSTEIN was the U.S. Ambassador-at-Large for International Religious Freedom for the Obama Administration from 2014-2017. Selected by Newsweek magazine in 2009 as the most influential rabbi in the country and described in a Washington Post profile as the "quintessential religious lobbyist on Capitol Hill," Rabbi Saperstein represented the Reform Jewish Movement to Congress and the Administration as the Director of the Religious Action Center of Reform Judaism (RAC) for forty years. Also an attorney, Rabbi Saperstein teaches seminars in First Amendment Church-State Law and in Jewish Law at Georgetown University Law School.
Watch a full video of the event here.