Thursday, May 2, 2019 -

9:00am

to

4:30pm
Forum (Room 250), Ronald O. Perelman Center for Political Science and Economics
Map / Accessibility / Lunch Provided / Free and open to the public
Read abstracts of the papers here.
Co-sponsored by The Jack Miller Center.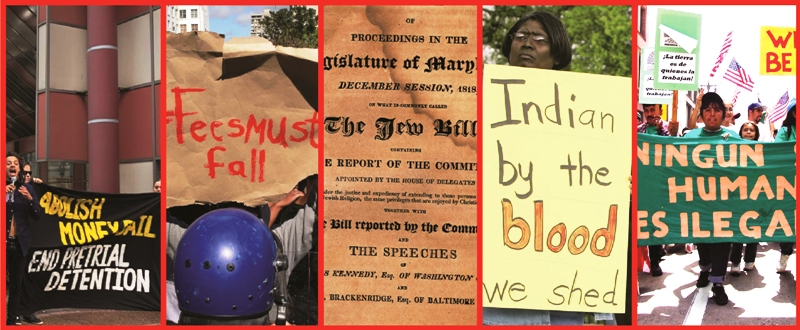 AS THE CULMINATION of a year of meetings to refine their research projects, the Mitchell Center undergraduate research fellows present their projects in a one-day conference, with diverse topics that include pre-trial detention reform, voter turnout, USDA nutrition guidance, the rights of Jews in antebellum Maryland, slavery in the Cherokee nation, immigration reform, schooling in Kenya's Kakuma refugee camp, and activism in post-apartheid South Africa.
INTRODUCTORY REMARKS - 9:00-9:15 am
PANEL 1 - 9:15-10:30 am – Government Action and Citizen Engagement
John MATTHEWS (Political Science)
Democratic Engagement with Pre-Trial Detention Reform
Kevin MYERS (Philosophy, Politics and Economics)
Voter Turnout and Monetary Incentives
Discussant: Paulina Ochoa ESPEJO (Political Science, Haverford College)
PANEL 2 - 10:45 am-12:00 pm – Minorities in Antebellum America
Eric EISNER (History)
The Most Generous, Disinterested, and Philanthropic Motives: Religion, Race, and the Maryland Jew Bill
Melanie XU (History)
Chattel Slavery in the Cherokee Nation: A Legal History
Discussant: Bernadette PÉREZ (Cotsen Postdoctoral Fellow in Race and Ethnicity Studies in the Society of Fellows, Princeton University)
PANEL 3 - 1:30-2:45 pm – The Politics of Migration and Refuge
Amanda DAMON (Communication and Public Service)
The Immigration Debate in America: the Civil Rights Question of our Time?
KaJaiyaiu HOPKINS (Sociology)
Citizenship in the Refugee Camp: How Religion Organizes Social Life
Discussant: Roberto CARLOS (CSERI Postdoctoral Fellow)
PANEL 4 - 3:00-4:15 pm – Activism in Post-apartheid South Africa
Dillon BERGIN (Comparative Literature)
Writing, Righting, and Rioting: Student Revolt in Post-apartheid South Africa
Alexandra BRECKENRIDGE (Philosophy, Politics and Economics)
Legal Battles Against Government Failure in Democratic South Africa
Discussant: Nafisa Essop Sheik (Cornell Visiting Professor, Swarthmore College)
CLOSING REMARKS - 4:15-4:30 pm