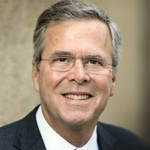 Former Presidential Professor of Practice (2018-2020)
Former Florida Governor Jeb Bush was named a non-resident Presidential Professor of Practice for the 2018-19  and 2019-20 academic years. Governor Bush engaged with Penn faculty and students in multiple ways, including participating in classes, lectures, and campus events, as well as select major Penn functions. His affiliation at Penn was at the Andrea Mitchell Center.
Here are videos of some of the events in which Governor Bush participated:
PPU Talk - The Health of American Democracy Today
Democracy in Trouble? - How Should Citizens Resist Authoritarian Rule?
PPU Debate - Should the U.S. Adopt a Merit-Based Immigration System?
Podcast - The Quiet Conservative: A Conversation with Jeb Bush
Governor Bush is familiar to the Penn community for his contributions as a panelist in the 2018 David and Lyn Silfen University Forum, "People and Policy Adrift: A 21st Century Framework for Asylum Seekers, Refugees, and Immigration Policy," which exemplified Penn's commitment to engaging diverse perspectives on challenging and timely topics. He is also no stranger to Philadelphia, having served as chair of the Board of Trustees at the National Constitution Center, where he helped spur more robust engagement around our nation's founding charter and the values and ideals for which the nation stands.
Governor Bush, who earned his bachelor's degree in Latin American Studies from the University of Texas at Austin, has written three books: Profiles in Character; Immigration Wars: Forging an American Solution; and Reply All: A Governor's Story 1999-2007. He is currently Chairman of Dock Square Capital LLC, a merchant bank headquartered in Miami. He maintains his passion for improving the quality of education for students across the country by serving as the Chairman of the Foundation for Excellence in Education, a national nonprofit education reform organization he founded to transform education in America. Governor Bush lives in Miami with his wife Columba. They have three children and four grandchildren.