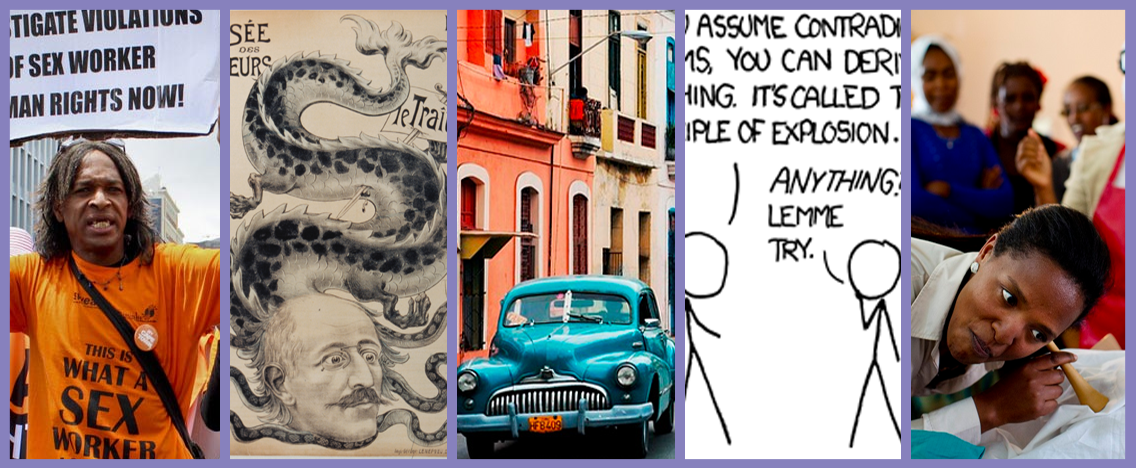 SEE PAST CONFERENCES HERE
AS THE CULMINATION of a year of meetings to refine their research projects, the Mitchell Center undergraduate research fellows present their projects in a one-day conference, with diverse topics that this year include sex-worker acticvism in South Africa, emergency-medicine research, the Dreyfus Affair, the logical prinicple of ex contradiction quodlibet, the history of modern Guyana, Cuban tourism, Ottoman slavery, maternity care in Ethiopia, and feminism in Mexico. Note: This year, due to coronavirus-related closures, it was not possible to hold an in-person conference. Instead, discussants submitted their comments in writing to the fellows. Co-sponsored by The Jack Miller Center.


READ ABSTRACTS OF THE PAPERS – AND SOME OF THE FULL PAPERS – HERE.


PANEL 1 – Public Health and Politics
Stefan RANOSZEK (Philosophy, Politics and Economics)
A "Fair Choice" for South Africa's Sex Workers: A Case Study on Struggles for Sex Workers' Rights in South Africa
Samantha STEIN (Health and Societies)
When All Is Experimental: Marshalling Ethics Aesthetics Through Autonomy Formulations in Urban U.S. Emergency Medicine Research
Discussant: Adam MOHR (History and Sociology of Science, Penn)
PANEL 2 – Communication, Information, and Ethics
Rebecca ALIFIMOFF (History)
Politics in The Personal: The Usage of Picture Postcards During the Dreyfus Affair
Sherry TSENG (Philosophy)
The Epistemic Injustice of Ex Contradiction Quodlibet
Discussant: Aaron SHAPIRO (NYU School of Law) 
PANEL 3 – Empire, Race, and Injustice
Michael Winston JOHN (Political Science)
Decolonizing Conflict: Empire, Race, and Nation in the Forging of Modern Guyana
Sophia LINDNER (Sociology)
Effects of Tourism Decline on Afro-Cuban Navigation and Perception of the Entrepreneurial Cuban Tourism Economy
Archana UPADHYAY (History)
"A Much More Peculiar Institution": British Conceptions of Ottoman Slavery in the Age of Abolition
Discussant: Andrew URBAN (American Studies, Rutgers)
PANEL 4 – Women, Motherhood, and Choice
Merobi DEGEFA (Health and Societies)
Redefining Dignified Maternity Care in Ethiopia
Alia SCHECHTER (History)
Mothers, Wives and Voters: A Transition to Difference-Oriented Feminist Rhetoric In Mexico, 1938-1953
Discussant: Tuğçe ELLIALTI-KÖSE (Sociology, Penn)


READ ABSTRACTS OF THE PAPERS – AND SOME OF THE FULL PAPERS – HERE.